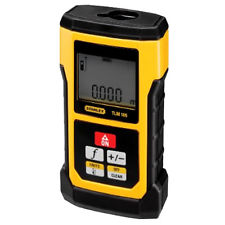 HSL 7713-9

77-139 50M LASER DISTANCE METER

TLM165
1) Range: 165ft (50m)
2) Accuracy: +/- 1/16" (1.5mm)
3) Distance / Area / Volume calculation.
4) Continuous measurement, find distance from a target quickly and easily.
5) Addiction / Subtraction, Convenient way to calculate in the field using standard measurement unit.
6) Memory: Unit store last 5 measurement taken for reference.
7) Backlit, 2 line display, provide visibility in all working conditions.
8) Corner stand off, end post make true corner to corner measurement easy and accurate.
9) Over model housing and IP 54 water / debris resistance. Durable product with high level of protection from dust, debris and water.