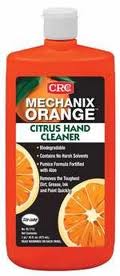 AST 1712

16OZ MACHANIC HAND CLEANER

CITRUS LOTION HAND CLEANER WITH PUMICE
1) Formulated with the natural cleaning power of citrus.
2) Fast and gentle hand cleaner with PH balanced.
3) Contain no harsh solvent.
4) Effective at cleaning the toughest soil, grime, ink, oil and paint.
5) Condition skin to leave hand feeling clean and fresh.
6) Fresh citrus scent.